Polk Audio Reserve R600 5.1 Speaker Package
$6,496.00
From:
$

5,560.00
How To Order
Purchase Online
Add to cart and checkout online
Phone Order
Call us on 02 9651 4922 to talk to a real person.
Seen it cheaper? Let us know!
The Polk Audio Reserve R600 Speaker Package is a premium and high performing 5.1 system. Speakers available in Black and Walnut. Subwoofer available in Black.
Description
Specifications
Additional information
Description
Package Includes:
Polk Audio Reserve R600 Floorstanding Speakers
The Polk Audio Reserve R600 represents the ultimate in performance and value, delivering killer flagship sound at an unbeatable price. With the addition of two 6.5" turbine cone woofers and Power Port 2.0, the R600 perfectly balances sonic impact with rich and detailed audio.
Key Features:
Medium sized floorstanding speaker

Dual 6.5″  Turbine Cone woofers

Sleek & elegant design with deep bass and smooth midrange and highs

Bass-reflex (ported) enclosure with down-firing Power Port 2.0 for reduced noise and increased bass response

Frequency response: 43-36,000 Hz

Removable magnetic grille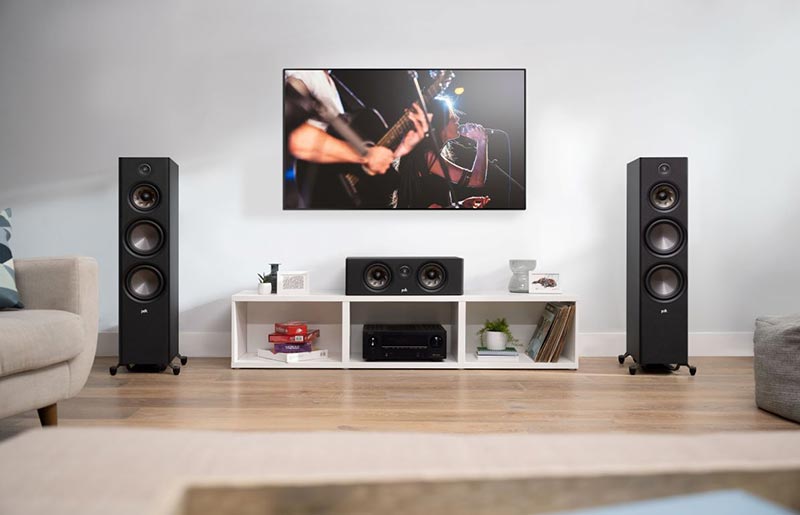 Polk Audio Reserve R300 Centre Speaker
At only 19-inches (48cm) wide, the Polk Reserve R300 compact center channel fits beautifully into any home theater setup. With a 1-inch Pinnacle tweeter and dual 5.25" Turbine woofers, you will enjoy crisp, clear vocals and intelligible dialogue for your favorite movies and shows.
Crystal Clear Vocals for Home Theatre – the centre channel is the most important speaker in any home theatre setup. The Reserve R300 uses Polk's latest flagship transducer array to deliver clear, crisp, intelligible dialogue no matter where you sit.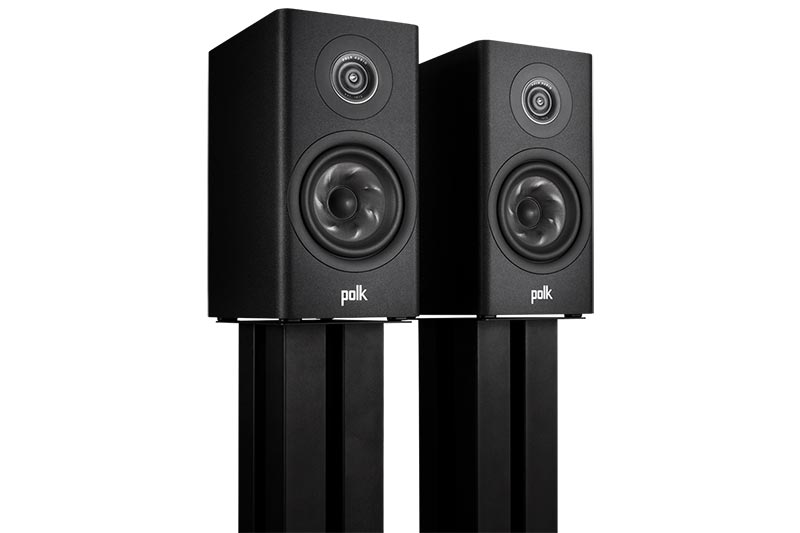 Polk Audio Reserve R100 Rear/Surround Bookshelf Speakers 
The Polk Audio Reserve R100 is a versatile small speaker that is great in a compact stereo pair, as part of a front stage, or as surround components in a larger system. Its diminutive size means it's equally at home on a bookshelf or on a stand.
Key Features:
Compact bookshelf speaker

Smooth midrange and highs and effortless bass

Beautiful stereo reproduction & excellent home cinema detail

Bass-reflex (ported) enclosure with X-Port

Exceptional value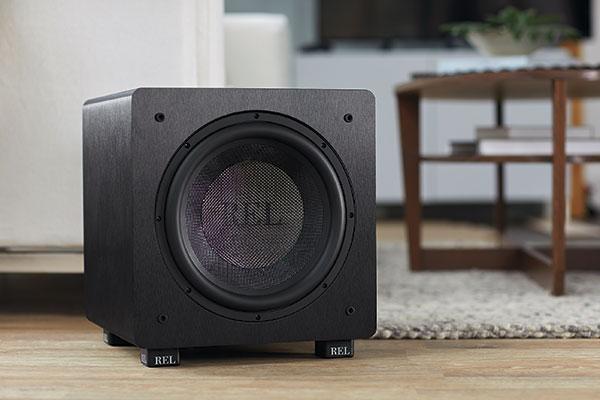 REL HT/1205 MKII 12 Inch 500 Watt Subwoofer
The REL HT/1205 MKII home theater subwoofer delivers a brand new 500W Class D power amplifier design, coupled to a 12" (300mm) long travel driver to deliver extremely high output in an attractive design. The REL HT/1205 is a powerhouse for dedicated high powered home theater applications, that will also transform the gaming experience and partners nicely with active wireless speakers.
The HT/1205 MKII is the ideal combination of a lightweight, modern 12" CarbonGlas™ (300mm) driver coupled to a powerful 500W Class D amplifier that runs cool, producing extraordinary dynamics. Internally, we developed specially adapted home theater input filters that produce extremely flat bass down in the 20's.
Key Features:
High Power Home Theatre Subwoofer with sealed cabinet

500 Watt Class D Amplifier

Long Throw 12" CarbonGlas™ Lightweight Bass Driver

Optional HT-Air™ Wireless Transmitter
Polk Audio Reserve R600 Floorstanding Speakers
| | |
| --- | --- |
| Speaker Type | Floorstanding Loudspeaker |
| (Sold As | Pair |
Transducer

Tweeter

1″ Pinnacle Ring Radiator

Mid-Range/Mid-Bass

–

Woofers

Two 6½" Turbine Cone

Overall Frequency Response

35 Hz – 50 kHz

Frequency Response (-3 dB Limits)

43 Hz – 38 kHz

Recommended Amplifier Power

25 – 200 W

Amplifier Output Compatibility

8Ω / 6Ω / 4Ω

Minimum Impedance (Ohms)

4.0Ω

Sensitivity (2.83 V/1 m)

87.5 dB
Crossover

Tweeter/Mid-Range Crossover Frequency

2,700 Hz

Mid-Range/Mid-Bass Crossover Frequency

–
Measurements

Product Dimensions W x H x D (Includes Width of Feet)

280.7 x 1063.8 x 381.6 mm (11 x 41.9 x 15 in)

Product Weight (Each)

21.5 kg (58.2 lb)

Shipping Dimensions W x H x D

494 x 374 x 1152 mm (19.4 x 14.7 x 45.35 in)

Shipping Weight (Each)

26.4 kg (58.2 lb)
Cabinetry

New CRC (Mid-Range Enclosure Type)

–

Mid-Bass / Woofer Enclosure Type

Floor Firing Power Port with X-Port

Available Finishes

Black / Walnut

Feet

Spike and Pad

Wall-Mountable (Keyhole Slots)

No

Binding Posts: Nickel-Plated 5-Way

Single
Certifications (Non-Safety and Regulatory)

Hi-Res Certified

Yes

IMAX Certified

Yes
Polk Audio Reserve R300 Centre Speaker
| | |
| --- | --- |
| Speaker Type | Compact Center Channel |
| Sold As | Each |
Transducer

Tweeter

1″ Pinnacle Ring Radiator

Mid-Range/Mid-Bass

–

Woofers

Two 5¼" Turbine Cone

Overall Frequency Response

45 Hz – 50 kHz

Frequency Response (-3 dB Limits)

65 Hz – 38 kHz

Recommended Amplifier Power

30 – 200 W

Amplifier Output Compatibility

8Ω / 6Ω / 4Ω

Minimum Impedance (Ohms)

3.8Ω

Sensitivity (2.83 V/1 m)

86.5 dB
Crossover

Tweeter/Mid-Range Crossover Frequency

2,200 Hz

Mid-Range/Mid-Bass Crossover Frequency

–
Measurements

Product Dimensions W x H x D (Includes Feet)

482.6 x 172 x 226.5 mm (19 x 6.8 x 8.9 in)

Product Weight

7.6 kg (16.8 lb)

Shipping Dimensions W x H x D

598 x 316 x 260 mm (23.5 x 12.4 x 10.2 in)

Shipping Weight

9 kg (19.8 lb)
Cabinetry

New CRC (Mid-Range Enclosure Type)

–

Mid-Bass / Woofer Enclosure Type

Sealed

Available Finishes

Black / Walnut

Feet

Rubber Pads

Wall-Mountable (Keyhole Slots)

No

Binding Posts: Nickel-Plated 5-Way

Single
Certifications (Non-Safety and Regulatory)

Hi-Res Certified

Yes

IMAX Certified

No
Polk Audio Reserve R100 Rear/Surround Bookshelf Speakers 
| | |
| --- | --- |
| Speaker Type | Standmount (Bookshelf) |
| Sold As | Pair |
Transducer

Tweeter

1″ Pinnacle Ring Radiator

Mid-Range/Mid-Bass

–

Woofers

5¼" Turbine Cone

Overall Frequency Response

44 Hz – 50 kHz

Frequency Response (-3 dB Limits)

58 Hz – 39 kHz

Recommended Amplifier Power

30 – 150 W

Amplifier Output Compatibility

8Ω / 6Ω / 4Ω

Minimum Impedance (Ohms)

3.6Ω

Sensitivity (2.83 V/1 m)

86 dB
Crossover

Tweeter/Mid-Range Crossover Frequency

2,700 Hz

Mid-Range/Mid-Bass Crossover Frequency

–
Measurements

Product Dimensions W x H x D (Includes Feet)

166 x 324 x 259.5 mm (6.5 x 12.8 x 10.2 in)

Product Weight (Each)

5.5 kg (12.2 lb)

Shipping Dimensions W x H x D

478 x 348 x 422 mm (18.8 x 13.7 x 16.6 in)

Shipping Weight

12.9 kg (28.4 lb)
Cabinetry

New CRC (Mid-Range Enclosure Type)

–

Mid-Bass / Woofer Enclosure Type

Rear X-Port

Available Finishes

Black / Walnut

Feet

Rubber Pads

Wall-Mountable (Keyhole Slots)

Yes

Binding Posts: Nickel-Plated 5-Way

Single
Certifications (Non-Safety and Regulatory)

Hi-Res Certified

Yes

IMAX Certified

No
REL HT/1205 MKII Subwoofer
Type: Closed box, front-firing driver

Active Driver Size & Material: 12 in., 300mm long-throw, CarbonGlas™ cone structure, inverted carbon fibre dust cap, steel chassis

Passive Radiator Size & Material: NA

Low Frequency Extention: -6dB at 22 Hz

Input Connectors: Dual purpose Low Level stereo RCA or LFE RCA

Output Connectors: Daisy Chain Low Level stereo RCA or LFE RCA

Power Output: 500 watts (RMS)

Amplifier Type: NextGen5 Class D

Wireless Capability: HT Air Wireless (Optional), Zero Compression Single Large Scale Integrated Chip

Protection System




Fully Electronic Set Safe: Yes




D.C. Fault: Yes




Output Short: Yes




Mains Input Voltage: 220-240 volts, 110-120 volts for certain markets




Fuses: 8 Amp semi delay 230 or 115 volts operation




Dimensions W x H x D: 413mm x 387mm x 438mm




Net Weight: 19.6kg




Finish: Line Grained Black Composite

Supplied Accessories




Mains Lead: Yes




Users Manual: Yes
Additional information
| | |
| --- | --- |
| Weight | 93 kg |
| Carton Dimensions | 49 × 37 × 115 cm |
| colour | Black, Walnut |