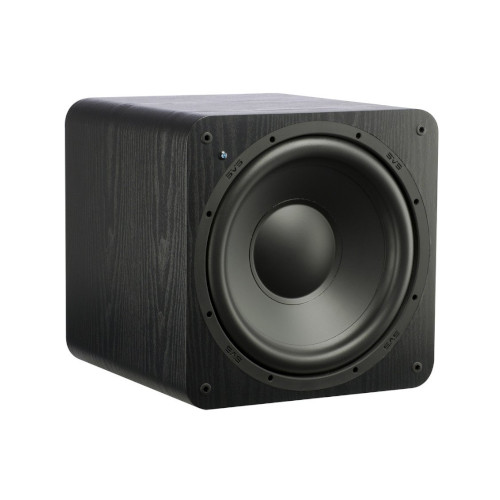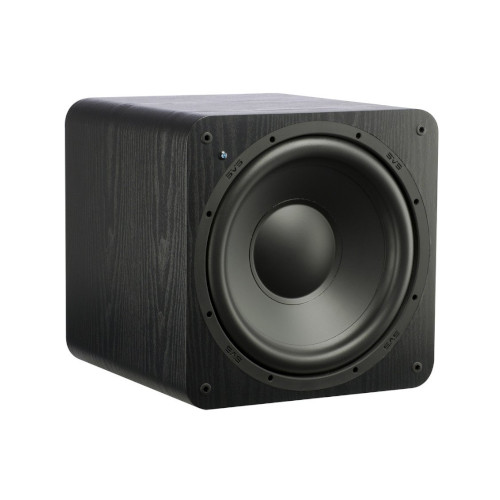 SVS SB-1000 Sealed Subwoofer
How To Order
Purchase Online
Add to cart and checkout online
Phone Order
Call us on 02 9651 4922 to talk to a real person.
Seen it cheaper? Let us know!
Extreme depth, power and intensity of a world-class subwoofer, from a super compact 13-inch cabinet. The SVS SB-1000 subwoofer is small enough to conceal in any room, and with its 12-inch front-firing driver and 300 watts RMS, 700+ watts peak power amplifier, energizes a room with deep, effortless and articulate bass.
Description
Specifications
Additional information
Description
Key Features of the SVS SB-1000 Subwoofer
Compact size – 34cm high, 33cm wide, 35cm deep

12″ High Excursion Bass Driver with Sealed Cabinet Design

300 Watts RMS, 700+ Watts Peak

Frequency Response: Down to 24Hz

Black Ash in colour
Small subwoofer cabinets are not conducive to big bass, which presented a challenge for SVS engineers when designing the SB-1000 and its compact 13x13x13-inch enclosure. Refusing to sacrifice performance for size, SVS engineers threw out preconceived notions and designed a subwoofer with massive output and remarkable low frequency extension, especially relative to its size and price. All without sacrificing accuracy, detail, and musicality.
At first glance, it's easy to underestimate the impact of the SB-1000 subwoofer based on size alone. But when it erupts to life with deep and hard-hitting bass, there's no mistaking it's a bona fide, high performance subwoofer.
Commanding 12-inch SVS High-Excursion Driver
SVS packed the compact SB-1000 subwoofer with a front-firing 12-inch driver, massive dual ferrite magnets and FEA-optimized internal motor technology for high output with extremely low distortion. The lightweight cone material of the long-stroke driver reproduces subtle audio tones and massive low frequency impact with lifelike realism. Durable rubber surrounds ensure long-lasting performance, even when the subwoofer is pushed to its performance limits for extended periods of time. Authoritative and musical, the SB-1000 a perfect option for serious music or home theater lovers.
Powerful and Sophisticated Sledge STA-300D Amplifier
Conservatively rated at 300 watts RMS, 700+ watts peak power, the Sledge STA-300D amplifier maintains precise control of the subwoofer at all drive levels so you can push to reference volumes without distortion. A sophisticated DSP is perfectly tuned to the unique driver and cabinet configuration and its equalization curve is optimized for enhanced transient response and room gain, making the subwoofer sound much bigger than its size. The SB-1000's ability to start and stop on a dime and stay true to the source material is a performance hallmark normally reserved for much more expensive subwoofers. The advanced DSP engine also allows for fine tuning of audio playback and easy set-up and integration into any home theater or stereo system.
Sonically Inert and Rigidly Braced Cabinet
Thermal management is critical when dealing with such a powerful amplifier and motor in a compact sealed cabinet, so SVS implemented a unique vented pole piece and efficient high-power voice coil to keep the SB-1000 subwoofer cool without impacting performance or adding noise. The cabinet is rigidly braced and sonically inert so the bass you hear is always effortless and pure, even at the highest drive levels.
Weighing in at an easily movable 27 lbs, the SB-1000 is SVS's lightest and smallest subwoofer, making its 24Hz to 260Hz (+/- 3dB) frequency response all the more impressive.
Subwoofer Specs:
Front-firing 12″ driver

Rigid and strong cabinet construction

Cloth grille with pin/cup retention system

Detachable power cord

Cabinet Dimensions: 13.5″ (H) x 13″ (W) x 14″(D) (without grille)

Overall Dimensions: 13.5″ (H) x 13″ (W) x 14.6″(D) (with grille)

Weight (unboxed): 27 pounds

Shipped Dimensions: 19″ (H) x 18″ (W) x 18″ (D)

Shipped Weight: 34 pounds
Driver Specs:
SVS 12" high-performance driver

FEA-optimized motor technology for low distortion

High-power voice coil for excellent thermal management

Lightweight cone for enhanced sensitivity and transient response

Rubber surround for durability and long-life

Dual high-grade ferrite magnets

Vented pole piece for greater cooling and low noise
Amplifier Specs:
Sledge STA-300D with 300 watts RMS continuous power (720 watts peak dynamic power)

Efficient and cool-running Class D topology

300 watts (720 watts peak dynamic)

Green standby mode with less than 0.5 watts consumption

Detachable power cord with main power switch

RoHS compliant, lead-free construction and world-wide safety certifications

Auto-On / On switch

DSP control for accurate response and refined behaviour under all operating conditions

Stereo line-level RCA Input & 80Hz High Pass Filtered Output connections

Stereo speaker level 5-way binding post input connections

Continuously variable low pass filter frequency with disable/LFE setting

Continuously variable volume and phase controls./li>

Input impedance – 47 kΩ (unbalanced RCA) / 2 kΩ (speaker level)
Additional information
| | |
| --- | --- |
| Weight | 17 kg |
| Carton Dimensions | 45 × 47 × 45 cm |