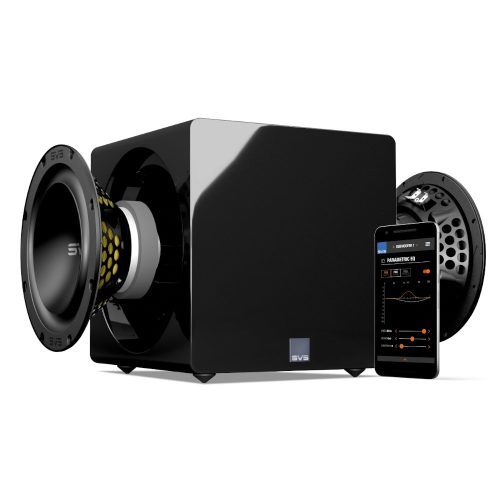 SVS 3000 Micro Subwoofer
$1,899.00
From:
$

1,709.00
How To Order
Purchase Online
Add to cart and checkout online
Phone Order
Call us on 02 9651 4922 to talk to a real person.
Seen it cheaper? Let us know!
Reference Subwoofer Performance Just Went Micro.
Chest-pounding, musical bass with depth, slam, and impact, from a shockingly compact 10-inch cabinet. Many micro subwoofers have tried, all have failed. Until now. The miniature yet mighty SVS 3000 Micro subwoofer seamlessly blends into any room and speaker system, energizing the space with astonishingly rich, effortless bass that's all the more impressive given its micro-sized enclosure.
Description
Specifications
Additional information
Description
Key Features of the SVS 3000 Micro Subwoofer
Fully Active Dual Opposing 8-inch Drivers in a very Compact Cabinet
800 Watts RMS, 2,500 Watts Peak
Frequency Response: 23Hz
Powerful App Control makes control and tuning easy for the best results
Available in Gloss Black and Gloss White
The SVS 3000 Micro
The challenges of designing a subwoofer capable of chest-pounding output at the lowest frequencies, while maintaining effective thermal and energy management in a micro-sized enclosure, has always been the holy grail of subwoofer brands. Previous designs were flawed with weak output, distortion, and uncontrolled movement of the cabinet itself.
3000 Micro is like a magic trick — small enough to fit anywhere and capable of delivering breathtaking bass from a shockingly compact 10-inch enclosure. For the first-time ever, a micro subwoofer that does not compromise on performance.
SVS engineers had to bend the laws of physics designing a micro-sized subwoofer capable of massive, pristine output in Hi-Fi and home theatre systems. Reference amplifier technology from the flagship SVS 16-Ultra subwoofers was applied in an 800 watt RMS, 2,500+ watt Peak Power Sledge STA-800D2 amplifier with discrete MOSFET output for effortless, on-demand current with unerring control.
Harnessing the colossal power are fully active dual opposing 8-inch SVS drivers connected in parallel to move in perfect unison for massive slam and output with crisp, musical transients. The usable surface area of two fully active 8-inch woofers firing in opposite directions unleashes performance on par with much larger subwoofers and the tight, punchy output obliterates multi-driver passive radiator subwoofer designs known for bloated, one-note bass.
3000 Micro also has brains to match its brawn. A 50 MHz Analogue Devices DSP enables sophisticated control and custom frequency response curves for optimised real-world output and acoustically tuned room gain. It also enables advanced tuning and control via the SVS subwoofer DSP smartphone app.
3000 Series Technology
Inspired Subwoofer Engineering for Uncompromised Performance
The new SVS 3000 Micro features technology breakthroughs from the 16-Ultra Series, 4000 Series, 3000 Series, 2000 Pro Series, and 1000 Pro Series. This technology joins with exclusive 3000 Micro innovations to set a new standard for subwoofer performance value. More people than ever can now enjoy room-shaking bass below the threshold of human hearing with unerring accuracy and control.
Fully Active Dual Opposing 8-Inch Drivers – Defy the Laws of Physics with Room-Shaking Output and Pinpoint Accuracy
A first-ever design for SVS, two fully active 8-inch woofers are mounted on opposite sides of the sealed cabinet and move in perfect unison to generate stunning low frequency output with crisp, musical transients. The usable surface area of two fully-active 8-inch woofers firing in opposite directions achieves performance on par with significantly larger single-driver subwoofers. Its tight, punchy output obliterates multi-driver passive radiator subwoofer designs known for their bloated and boomy sound.
By firing in opposite directions, the mechanical energy transferred to the cabinet is effectively cancelled out. This creates a sonically inert environment and solves the longtime curse of micro subwoofers, which are known to "dance" or "walk" across the room.
The active dual drivers are connected in parallel to a single power amplifier. Each receives the same amount of current, ensuring pinpoint control and more precise, accurate bass. The use of aluminium throughout the woofer, from bobbin to cone, creates a lightweight, stiff, and thermally-optimised driver without resonances or extraneous vibrations.
Each high-excursion active 8-inch driver employs a progressive inverted surround to ensure maximum linear displacement. This is imperative for moving massive amounts of air and generating sound pressure levels you can feel at the deepest frequencies from such a small enclosure.
Precisely tuned overhung motor configuration for unerring woofer control at all drive levels.
Proprietary injection-moulded NBR surround built for extreme-excursion and longevity at reference playback levels. Total Excursion (each driver): 24 mm Xmax, 37 mm Xmech.
High-current 4-layer copper voice coil winding minimises distortion and power compression, while providing effective heat dissipation and tuned magnetics for accuracy at high excursion.
Formidable proprietary ferrite motor system generates high-flux-density magnetic fields to drive room-filling sound pressure levels with pinpoint transients.
Dual 8-inch baskets with FEA optimised powder-coated frames for maximum rigidity, thermal conductivity, and mechanical damping.
Innovative Motor Assembly – Maximises Current Delivery for Active Dual-Driver Array
An oversized, vented motor structure is optimised for efficient thermal and mechanical-energy management in a confined space. Massive electromagnetic force produced by the motor, in symphony with the high current driving power of the Sledge amplifier, allows the 3000 Micro to maximise on the output potential of the dual drivers.
Lightweight and rigid aluminium vented cone with composite fibre dustcap generates massive output with pinpoint accurate frequency response.
Long-throw parabolic surround and proprietary injection moulded gasket ensure longevity and allow extreme excursion for room-energizing bass.
Sledge STA-800D2 Amplifier – Massive Output with Precise Driver Control
A driver is only potential and requires and equally potent amplifier. Extreme challenges existed for SVS engineers when designing an amplifier capable of powering fully active dual 8-inch drivers at reference levels in a micro-sized cabinet. How to maximise SPLs while maintaining accuracy? How to optimise on the potential of room gain? How to maintain proper cooling while achieving massive SPLs?
SVS met these challenges with an 800 watt RMS, 2,500+ watt peak power Sledge STA-800D2 power amplifier that combines the high-current output of discrete MOSFETs with Class D efficiency and the processing power of an Analogue Devices DSP. The 3000 Micro subwoofer's amplifier effortlessly produces sustained high-current output for the most difficult low frequency playback without clipping or bottoming out. Convincing, high-impact audio experiences without a trace of distortion.
High Current Output from Fully Discrete MOSFETs with the efficiency of Class D amplification allows the Sledge STA-800D2 amplifier to generate massive amounts of current enabling immense output with surgical precision.
Optimised frequency response curves for the sealed cabinet 3000 Micro allow the subwoofer to take control of a room and pressurise it with accurate, heart-pounding, acoustically tuned bass.
Sophisticated multi-band limiters enable the system to behave effortlessly move air and with complete control, even when played at extreme levels.
Sophisticated 50 MHz DSP Engine – Unrivalled Processing Power from a Home Audio Subwoofer
A 50 MHz Analogue Devices DSP, normally reserved for high-end separate audio components, delivers sophisticated control and custom response curves optimised for real-world output and acoustically tuned room gain.
DSP plays a huge role in making the 3000 Micro subwoofer sound far bigger than its size. SVS engineers painstakingly crafted an in-room frequency response curve that fully maximises on the potential of a room's boundaries to produce greater output and deeper bass extension without bloat or boominess. The result, a subwoofer that far exceeds expectations given its size.
3000 Micro Smartphone App – Easiest Way Ever to Manage Subwoofer DSP and Control
The most convenient way ever to control volume, access multiple DSP functions, and program custom preset tuning profiles optimised for music, movies, gaming, and more. All accessible with a single touch. Adjust crossover frequencies, a three-band parametric EQ, polarity, room gain and more, all from your favourite seat.
Connects via Bluetooth for convenient control even when subwoofer is out of sight.
Saved custom presets for one-touch tuning with optimised settings based on listening preferences for movies, music, and more, with one-touch access.
3-band parametric EQ controller allows precise adjustments for boost or cut, Q-factor, and frequency down to the single Hz level to eliminate peaks, nulls and other room issues.
Rear Panel Intelligent Control Interface (ICI)
Rear-panel SVS Intelligent Control Interface (ICI) provides control options and connections for the subwoofer's most critical functions.
Level Control to fine tune the overall output level that best matches the system and room.
Low pass filter control to ensure smooth sonic transitions and seamless blending with the main speakers.
Phase control to align the subwoofer's output timing with the main speakers or additional subwoofers.
USB port provides power for the SVS SoundPath Wireless Audio Adapter (sold separately) which eliminates the need for a cable run to the subwoofer from the source component.
RCA Audio Interconnect Input for use with most AV receivers and preamplifiers.
Acoustically Inert and Rigidly Braced Sealed Cabinet Design
Handsomely styled to complement the finest home theatre and Hi-Fi systems, yet compact enough to stash out of sight, the acoustically optimised 3000 Micro sealed cabinet design blends with any room or setup. Features extra-thick MDF side baffles and rigid internal bracing for a resonance-free environment that remains motionless even at peak playback levels, solving a long-time issue of "dancing" micro subwoofers. Serves as a blank canvas for uncompromised subwoofer performance.
Acoustic absorption eliminates all coloration from the cabinet, even when the deepest low frequencies are played at reference volume.
Protective non-resonant perforated metal grilles shield drivers to prevent damage while ensuring longevity
Reinforced internal bracing for resonance free performance at highest drive levels
Custom iso-elastomer screw-in feet reduce noise artifacts and improve stability
Frequency Response / Acoustic Data
23 Hz to 24 0Hz +/-3dB
Roll-off slope specifically optimised to take maximum advantage of available room gain
2-meter ground plane away from reflective structures (quasi-anechoic)
Subwoofer Specs
Dimensions (including grilles): 10.9" (278 mm) H X 11.7" (297 mm) W X 10.7" (271 mm) D
Weight: 22.5lbs (10.2kg)
Packaged Dimensions: 13.9" (353 mm) H X 15.4" (390 mm) W X 15.4" (390 mm) D
Packaged Weight: 26.7 lbs (12.1 kg)
Dual opposing 8-inch active drivers designed acoustically and electrically in parallel
800-watt RMS, 2,500-watt peak Sledge STA-800D amplifier with fully discrete MOSFET output
Rear-mounted internal amplifier with Intelligent Control Interface (ICI)
High-end Piano Gloss Black and Piano Gloss White finish options
Screw-in rubber feet
Structurally reinforced MDF cabinet construction
Driver Specs
Dual opposing 8-inch drivers designed electrically and mechanically in parallel for massive output from and a sonically inert cabinet, and ultra-low system vibration even at maximum output levels
Precisely tuned overhung motor configuration for precise woofer control at all drive levels
Proprietary injection-moulded NBR surround built for extreme-excursion and longevity at reference playback levels
Total Excursion (each driver): 24 mm Xmax, 37 mm Xmech.
1100 aluminium single piece cone and junction provide excellent stiffness and a lightweight moving mass with optimised thermal conduction.
High-current 4-layer copper voice coil winding minimises distortion and power compression, while providing effective heat dissipation and tuned magnetics for accuracy at high excursion.
Powerful proprietary ferrite motor system generates high-flux-density magnetic fields to drive room-filling sound pressure levels with pinpoint transient speed.
Precision machining for motor and narrow tolerance suspension parts maintain control and linearity at full excursion
6061 aluminium shorting ring improves linearity of magnetics and reduces distortion and gap inductance
High-temperature 5025-H18 aluminium former/bobbin
5-inch composite poly-cotton extreme-linear-excursion spider
Dual 24-strand plated copper leads
High-performance oversized Y30 Ferrite magnet motor
Top plate assembly with low carbon 1010 steel completes the driver's precision magnetic circuit
Oversized low carbon 1010 steel U-yoke for maximum cooling
Dual 8-inch baskets with FEA optimised powder-coated frames for maximum rigidity, thermal conductivity, and mechanical damping
Amplifier Specs
Effortless on-demand power from 800-watt RMS, 2,500-watt peak Sledge STA-800DM amplifier with fully-discrete MOSFET output
High-efficiency Class-D switching topology with massive 25-amp 600-volt MOSFETs results in ample current, vanishing distortion and excellent linearity to generate massive low-frequency output with pinpoint accuracy
High-resolution 50 MHz Analogue Devices Audio DSP with double precision 56-bit filtering industry best processing power for advanced control and pristine output
User adjustable settings for system performance optimization: low pass filter, phase, polarity, room gain, and three parametric equalizers
Groundbreaking SVS subwoofer DSP and Bluetooth smartphone control app for iOS, Android and Amazon devices allow custom tuning and user presets for every room and system
Stereo RCA input and output with ultra-wide input voltage for consumer and professional audio applications
Rear panel Intelligent Control Interface (ICI) user interface with blue-LED light bar display and easy push-button controls
Auto/On and 3-12 V AC/DC trigger for Maximum Installation Convenience
Input impedance 16 kΩ (unbalanced RCA)
Environmentally-friendly 0.5-watt low-standby-power consumption
RoHS compliant, lead-free construction, world-wide safety certifications
SVS App Specs
Powerful Bluetooth-controlled subwoofer DSP app works with iOS, Android, and Amazon operating systems
Provides easy and convenient way to adjust crossover frequencies, parametric EQ, polarity, room gain and all other bass-management functions
Three convenient custom presets allow for perfect tuning in any room or system, from your favourite seat
Bidirectional-feedback shows adjustments in real time on both app and subwoofer rear panel interface
Accessories
Dual protective non-resonant steel mesh grilles
Isolating elastomer feet
Heavy-duty, high-current 6-foot power cord
Quick Start Guide
Additional information
| | |
| --- | --- |
| Weight | 12 kg |
| Carton Dimensions | 35 × 39 × 39 cm |
| colour | Gloss Black, Gloss White |